Apoteket guides its customers with SiteSeeker
E-commerce was a challenge to Apoteket due to the complicated nature of the pharmaceutical sector. Apoteket wants to offer guidance and answear questions as well as sell products. The website's new search functionality allows Apoteket to meet all objectives in an accessible way.
In the past, Apoteket had issues with search quality. The company received a lot of complains and e-commerce users had all but stopped using search. Today, Apoteket have the ability to optimize search and control search results, and as a result, complains are almost nonexistent.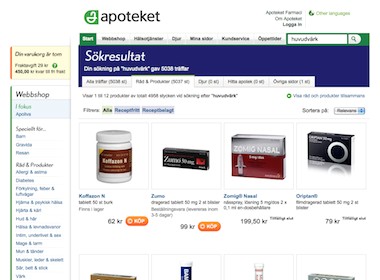 The e-commerce challenge for Apoteket
Apoteket had many issues with search functionality on its website before they implemented the search engine SiteSeeker. Apoteket's users couldn't find the products or advice that they were looking for and the usage of search on the website decreased over time.
- The number of searches went down considerably even if we did nothing. The visitors on our web didn't expect to find anything says Linus Boström, web editor at apoteket.se.
Pharmaceutical and e-commerce is a complicated mix since it concerns both prescription as well as non-prescription drugs and advisory related to both items. Apoteket wants to simplify the purchasing process as well as offer information about products and services.