Apoteket guides its customers with SiteSeeker
E-commerce was a challenge to Apoteket due to the complicated nature of the pharmaceutical sector. Apoteket wants to offer guidance and answear questions as well as sell products. The website's new search functionality allows Apoteket to meet all objectives in an accessible way.
In the past, Apoteket had issues with search quality. The company received a lot of complains and e-commerce users had all but stopped using search. Today, Apoteket have the ability to optimize search and control search results, and as a result, complains are almost nonexistent.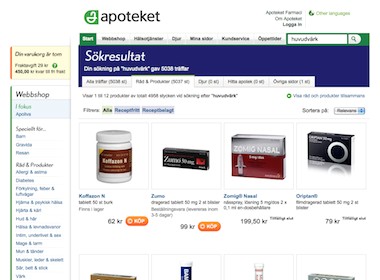 Continuous work with search gives results
After the implementation of SiteSeeker, Apoteket has started to work more actively with search. With the help of SiteSeeker functionality, Apoteket can optimize search results and quickly troubleshoot if they find that users aren't finding what they are searching for.
- With SiteSeeker, we can analyze and correct in a whole different way, it's not a search engine that is detached from our web and we can now act quickly says Linus Boström.
One of the goals that Apoteket set out with the implementation of SiteSeeker was to achieve lower exit-rate numbers. Before going with SiteSeeker, Apoteket had an exit-rate of 70% and set up to decrease it to under 30%. Today, the exit-rate is 21%. The total number of searches on the website has increased as well as the number of page views after a search.
Historically, Apoteket received a lot of complains from its search functionality. Today, thank's to the new search functionality and continuous work with search – users are finding what they are looking for and the number of complaints have decreased substantially.