Apoteket guides its customers with SiteSeeker
E-commerce was a challenge to Apoteket due to the complicated nature of the pharmaceutical sector. Apoteket wants to offer guidance and answear questions as well as sell products. The website's new search functionality allows Apoteket to meet all objectives in an accessible way.
In the past, Apoteket had issues with search quality. The company received a lot of complains and e-commerce users had all but stopped using search. Today, Apoteket have the ability to optimize search and control search results, and as a result, complains are almost nonexistent.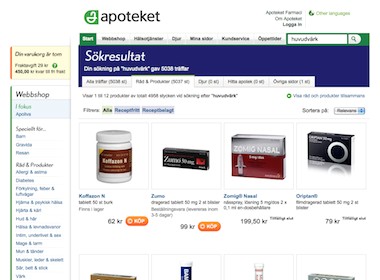 Apoteket uses SiteSeeker for .NET
Apoteket uses a solution based on Microsoft Commerce and Sharepoint. In order to achieve a fully integrated seach solution, they choose to utilize SiteSeeker search integration for .NET. The solution allows for central search for products, advice and pharmacies as well as letting users drill down for information in a group of search results.
- We received great help from SiteSeeker, not only to integrate the search functionality but also to optimize tagging of information says Richard Ginzburg, architect at KnowIT who performed the integration.
Apoteket took help from the web design agency Doberman in order to create an appealing search interface that will guide the users regardless of whether they are looking for a specific product or for information.
- Of course we want to sell products, but an important part of our mission is to give advice about the usage of our products. We achieve this by an integrated presentation says Linus. Combined with intelligent language match, we increase the chances to get your search questions correctly answered.