Website and search from a user perspective for Stockholm
Every fourth click on the website stockholm.se is a search request. That is why the search engine was extra important when Stockholm decided to build a world class website. The choice fell on SiteSeeker and the objective was to allow the user to navigate through the search results in the same way as with the rest of the website.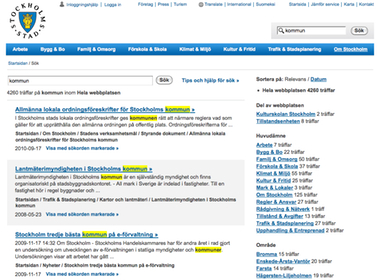 The challenge
In order to navigate through tens of thousands of pages and documents at the city of Stockholm's previous website, the user was forced to find the right administrative department or use the search engine in place, which didn't produce relevant hits for the visitors.
- According to user surveys that we have done, a large part of our visitors wants to use the search function instead of navigating through the web site, says Ola Williams, at Stockholm's communications team.
That's why it is important to have a search function that allows you to not only search for information, but also to refine your search results by for example chose which area in Stockholm you are interested of.