Website and search from a user perspective for Stockholm
Every fourth click on the website stockholm.se is a search request. That is why the search engine was extra important when Stockholm decided to build a world class website. The choice fell on SiteSeeker and the objective was to allow the user to navigate through the search results in the same way as with the rest of the website.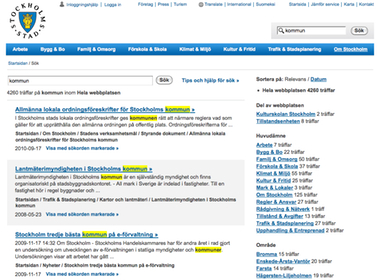 Stockholmers followed and influenced the development
The new website stockholm.se introduced navigation that is based on what the user is looking for instead of how the administrative departments are organized, a method that is included in the new search function. For example, if you are searching for traffic noice, you can make your own definitions with regards to different subject areas in order to find the information faster, regardless which department that best answers your question.
The website was developed during an open beta period where the residents of Stockholm could follow and influence the development and even vote on how they wanted the search function to work. Processing synonyms In the earlier version of the search engine was tedious and many visitors had trouble finding what they were looking for. SiteSeeker fully supports synonyms so that the user gets a hit when he searches for kindergarten, even if it says pre-school on the website.
In the future, the search functionality on the public website will be extended to include geo-tagging and allowing for definition of map results. In addition, Stockholm will introduce searchable campaigns, for example during the time period when people are looking for schools for themselves or their children in order to help its users to find the information that they are looking for.