Search simplifies the daily life for Coop's customers and employees
Swedish grocery chain Coop dramatically improved customer loyalty and the productivity of its employees by implementing SiteSeeker on the new website coop.se and the new intranet CoopNet.
The website is an important tool for Coop and contributes to increased customer loyalty, promote campaigns and spread inspiration. Coop's intranet is designed to make the flow of information more effective and accessible to employees. An effective search solution helps Coop to achieve the primary goal – to become a leader on the Swedish grocery market.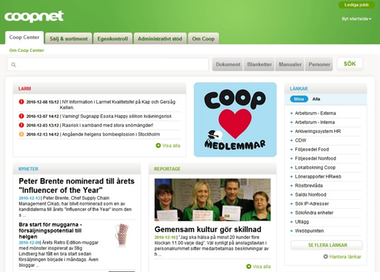 New and improved search for Coop's website and Intranet
The website is an important tool for Coop in order to work more effectively with customer loyalty, campaigns and inspiration. SiteSeeker is one of the main suppliers when Coop reintroduces coop.se
Thank's to the new search functionality, customers can now find the right information without having to click through several layers of menus. Coop thereby hopes to address its customers' needs faster and easier.
The goal for Coop's new intranet, CoopNet was to improve the information logic and simplify daily life for employees in stores and supermarkets. CoopNet is the primary source of information and a working tool for its 8 000 employees.