Search simplifies the daily life for Coop's customers and employees
Swedish grocery chain Coop dramatically improved customer loyalty and the productivity of its employees by implementing SiteSeeker on the new website coop.se and the new intranet CoopNet.
The website is an important tool for Coop and contributes to increased customer loyalty, promote campaigns and spread inspiration. Coop's intranet is designed to make the flow of information more effective and accessible to employees. An effective search solution helps Coop to achieve the primary goal – to become a leader on the Swedish grocery market.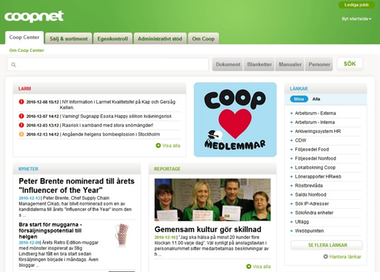 Coop.se: fast and simple access to recipes and store information
The new coop.se is a merger between kf.se, medmera.se and coop.se. In addition to offer recipes, the website also contains information about banking transactions from the loyalty card MedMera as well as miscellaneous store information. The conversion rate of card- and membership applications has increased dramatically on the new coop.se. The website has also strengthen customer loyalty and contributed to increase sales and profitability in Coop's stores.
Since much of the information is easily accessible through the search functionality, most visitors on coop.se use it to browse the website. The search engine is used to create dynamic browsing in order to ensure that the site is adopted to the target group instead of the other way around.
CoopNet: simplifies daily life for its employees
Due to the new search possibilities, employees now have the opportunity to find the right information fast, regardless if it concerns news, coupons or instructions for product placement. Today, 80 percent of employees use the intranet more than once a day and 96 percent finds that the intranet simplifies the daily routine.