Search simplifies the daily life for Coop's customers and employees
Swedish grocery chain Coop dramatically improved customer loyalty and the productivity of its employees by implementing SiteSeeker on the new website coop.se and the new intranet CoopNet.
The website is an important tool for Coop and contributes to increased customer loyalty, promote campaigns and spread inspiration. Coop's intranet is designed to make the flow of information more effective and accessible to employees. An effective search solution helps Coop to achieve the primary goal – to become a leader on the Swedish grocery market.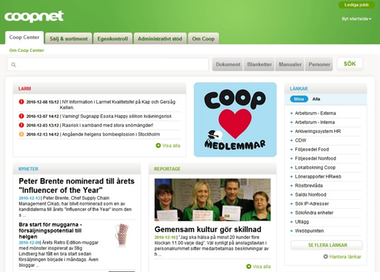 SiteSeeker search integration for EPiServer
SiteSeeker search integration for EPiServer offers a fully integrated search experience for users, web editors and developers. Important functional features are advanced language support, tested ranking and a benefit focused search statistic module.
Non-functional features include the unique service delivery model and our much appreciated support function that is of great help to developers and users alike.