SiteSeeker helps Kalmar municipality to increase the level of service
An important objective for Kalmar municipality's website project was to increase the service level for its visitors by making the information on its website more accessible. In order to achieve this, Kalmar took a comprehensive approach on search which resulted in a home page with a focus on search.
A common challenge for municipal websites is to achieve a good structure on the home page. There are many competitors for the top spot and Kalmar, like many other municipalities has several target groups with whom they want to communicate with through their website.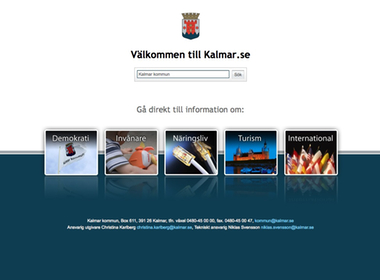 An innovative solution to a common problem
When Kalmar municipality launched the new website, they choosed to focus on search. With the help of the search engine SiteSeeker, the home page becomes more democratic since all administrative areas are presented on the same terms.
- We knew that behaviour changes, search becomes more common and people are not keen on browsing through the tree structure says Sara Svensson, responsible for search functionality on Kalmar.se. Kalmar's solution with a website that focuses on search requires a search engine that is up to the task. Therefore, it was especially important for Kalmar to have a search engine with high availability, a search engine they could trust.