SiteSeeker helps Kalmar municipality to increase the level of service
An important objective for Kalmar municipality's website project was to increase the service level for its visitors by making the information on its website more accessible. In order to achieve this, Kalmar took a comprehensive approach on search which resulted in a home page with a focus on search.
A common challenge for municipal websites is to achieve a good structure on the home page. There are many competitors for the top spot and Kalmar, like many other municipalities has several target groups with whom they want to communicate with through their website.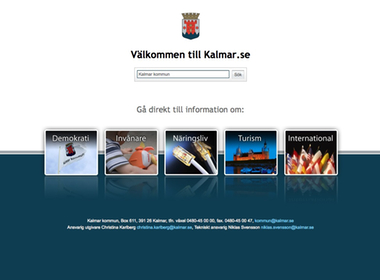 Kalmar.se uses SiteSeeker search integration for EPiServer
The municipality of Kalmar uses the SiteSeeker search integration for EPiServer on their website. SiteSeeker for EPiServer offers a fully integrated search experience for users, web editors and developers. Important functional features are advanced language support, tested ranking and a benefit focused search statistic module. Non-functional features include the unique service delivery model and our much appreciated support function that is of great help to developers and users alike.
Read more: SiteSeeker search integration for EPiServer