SiteSeeker helps Mid Sweden University's visitors to find the right education.
For a university, the website is the most important channel in order to reach potential students – According to the Swedish Agency for Higher Education Services, 99 percent of those interested are looking for education online.
In the year 2010, The Mid Sweden University rebuilt its website, www.miun.se and with the improved and categorized search functionality, searched webpages are now found with fewer clicks and visitors stay longer.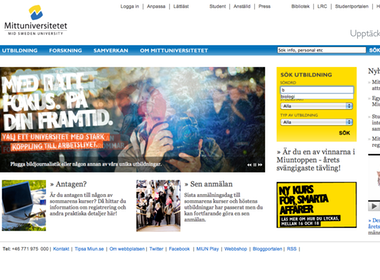 Maximises utility and usage of SiteSeeker
Mid Sweden University's website is a place for dialouge and interaction between the university and its visitors. Before the Mid Sweden University rebuilt its website in 2010, they used SiteSeeker for general search but a different search solution for finding information about education.
Instead of going forward with parallel search engines, TheMid Sweden University opted for using SiteSeeker for all its search functions and integrated the search engine into its legacy system. Hence, you'll use SiteSeeker regardless if you are looking for courses, researchers or general information.
The search results are attractively presented in six different facets and the visitor does also get the option to filter the search results. The Mid Sweden University has also used SiteSeeker to index its employee catalog in order to present it in a nice way.
- That's the beauty of SiteSeeker, there are so many things that you can do yourself – a search engine is what you make of it. And if you get stuck, SiteSeeker's support is only a phone call away says Bengt Nilsson, web coordinator at the Mid Sweden University