SiteSeeker helps Mid Sweden University's visitors to find the right education.
For a university, the website is the most important channel in order to reach potential students – According to the Swedish Agency for Higher Education Services, 99 percent of those interested are looking for education online.
In the year 2010, The Mid Sweden University rebuilt its website, www.miun.se and with the improved and categorized search functionality, searched webpages are now found with fewer clicks and visitors stay longer.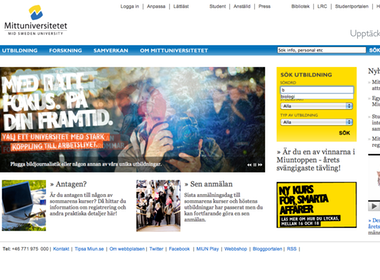 Aims to have Sweden's best search in the education sector
The Mid Sweden University is fully aware of the importance of having a great search functionality. One of their objectives is to have Sweden's best search function for students.
- An effective search function is extremely important to us. Our website needs two components: our webpages with courses which is our hub and a really good search function. Without it, we don't have a good website says Bengt Nilsson.
Since the implementation of SiteSeeker, visitors stay longer at the website and Bengt Nilsson hopes that this is because visitors finds what they are looking for. The search functionality is very important for the university and Bengt and his colleagues are actively working with search in order to always deliver good search results and keeping it nice and clean. They have had great respons from the 360 web editors at the Mid Sweden University.
- A part from SiteSeeker's support function, one of the greatest advantages with the search engine is the functions that we use the most. For example, we use SiteSeeker to analyze search results and survey click frequency. Every function that in the end simplifies for the visitors is invaluable says Bengt Nilsson.