Search makes NCC's web site and intranet more accecssible
Today, NCC involves more website visitors and helps its 18 000 employees find the information they need faster through focused work. David Fredriksson, Technical Web Manager at NCC tells the story on how the SiteSeeker search engine supports the process.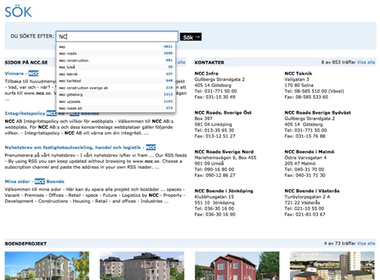 A website with many target groups requires easily accessible information
The objective when NCC changed search function to SiteSeeker was to increase the service level with efficient search on the external website. A public website where visitors actually will find what they are looking for is mission critical for NCC.
The website ncc.se addresses many target groups, consumers, potential employees and investors. Visitors are finding the information they need with the help of the new search functionality, which eases the pressure on NCC's staff.
One of SiteSeeker's greatest advantages is the outstanding support, both in terms of quality and response time. We also love the options you have in customizing your search function. It is easy to work with the search engine and you can easily create different categories, as well as filter and define. It feels very flexible, says David Fredriksson.