Search makes NCC's web site and intranet more accecssible
Today, NCC involves more website visitors and helps its 18 000 employees find the information they need faster through focused work. David Fredriksson, Technical Web Manager at NCC tells the story on how the SiteSeeker search engine supports the process.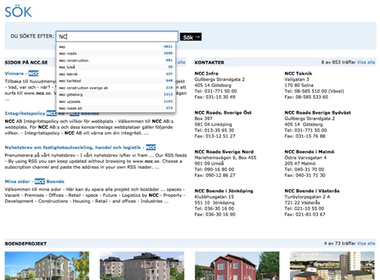 Search functionality makes the flow of information on the intranet more accessible
In addition to its website, NCC has chosen to implement SiteSeeker on its intranet, which addresses all employees at NCC. The search engine becomes a tool that makes daily life for the staff easier. Policies, social activities and NCC's "feel good department" are now searchable and easy to find.
- It's such a big difference compared to before – the new search functionality is efficient and easy to administer. SiteSeeker puts a lot of effort in quality assurance during the implementation process which helped a lot and made us and our partner feel we were heading in the right direction, says David Fredriksson.