Search makes NCC's web site and intranet more accecssible
Today, NCC involves more website visitors and helps its 18 000 employees find the information they need faster through focused work. David Fredriksson, Technical Web Manager at NCC tells the story on how the SiteSeeker search engine supports the process.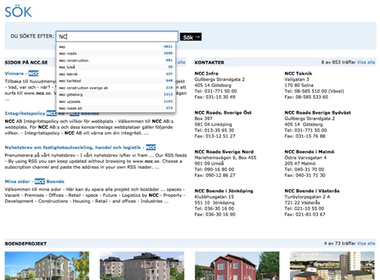 NCC uses SiteSeeker for EPiServer
NCC uses the SiteSeeker for EPiServer module on the website. SiteSeeker for EPiServer offers a fully integrated search experience for users, web editors and developers. Important functional features are advanced language support, tested ranking and a benefit focused search statistical module. Non-functional features include the unique service delivery model and our much appreciated support function that is of great help to developers and users alike.