Norstedts launches two new websites with a focus on search
Eight websites from different publishers mergers into two new websites. Norstedts has realized that search is one of the key factors in achieving a great customer experience online, they have therefore focused on an efficient search functionality for its visitors.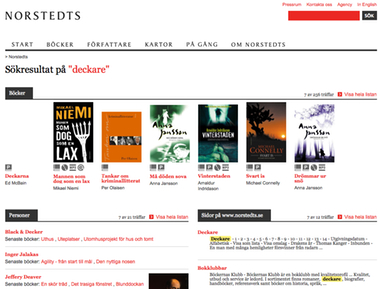 Two new websites – Norstedts and Rabén & Sjögren
When Norstedts launched two new websites, they focused on helping the visitors to a better customer experience, and to help them find what they are looking for with the help of the search engine SiteSeeker.
Nordstedt previously had eight websites servicing different publishers within the group. They have now been consolidated into two new websites – Norstedts and Rabén & Sjögren.
- Norstedts' effort is further evidence how search is given priority when building new websites, says Johan Carlberger, SiteSeeker's Managing Director. Our data shows that a majority heads directly for the search function, which makes the search engine the single most important factor in getting happy customers.