Norstedts launches two new websites with a focus on search
Eight websites from different publishers mergers into two new websites. Norstedts has realized that search is one of the key factors in achieving a great customer experience online, they have therefore focused on an efficient search functionality for its visitors.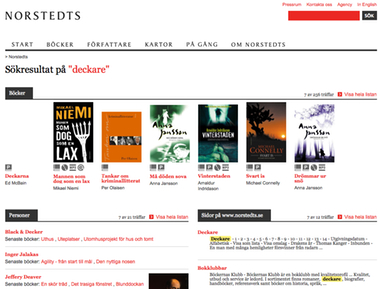 The key in achieving a great customer experience
Thanks to SiteSeeker's automatic listing of pages, even the traditional navigation receives a boost. On each webpage, visitors now gets updated and relevant suggestions about related books and subpages with information pages about authors for example. This is done without time-consuming manual work for the web editors. SiteSeeker's partner Sublime developed the websites.
- Search has become one of the most important functions in order to achieve a great customer experience online says Klas Fjärstedt, webmaster at Norstedts.
With SiteSeeker, our visitors can fast and efficiently find the information that they need, which in turn increases interest around our authors and their books.