Norstedts launches two new websites with a focus on search
Eight websites from different publishers mergers into two new websites. Norstedts has realized that search is one of the key factors in achieving a great customer experience online, they have therefore focused on an efficient search functionality for its visitors.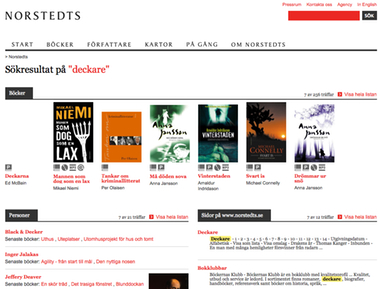 Norstedts uses SiteSeeker search integration for EPiServer on the website.
SiteSeeker search integration for EPiServer offers a fully integrated search experience for users, web editors and developers. Important functional features are advanced language support, tested ranking and a benefit focused search statistic module. Non-functional features include the unique service delivery model and our much appreciated support function that is of great help to developers and users alike.