Praktikertjänst intranet
Praktikertjänst is Sweden's largest group within private entrepreneurial dental- , health-, and medical care. It is a very important requirement for Praktikertjänst's intranet that all employees easily can find the information that they are looking for.
Today, users can quickly access the information that they need despite a complex system with many applications, functions and pages, which thereby saves them a lot of valuable time. Search on the intranet is a central function of the user experience as well as a cornerstone for the technical platform.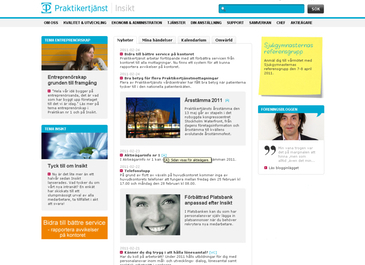 Working actively with SiteSeeker
The web editors at Praktikertjänst experienced the benefits with SiteSeeker from day one says Karen. Search results and language support when misspelling worked great as well as search accuracy.
- Directly after launching, we saw what users tried by couldn't find with search, and then analyzed that data in order to improve search results. The SiteSeeker training that we have received will be very helpful says Karen Kenney and Camilla Wågström who also works with the intranet at Praktikertjänst.