Praktikertjänst intranet
Praktikertjänst is Sweden's largest group within private entrepreneurial dental- , health-, and medical care. It is a very important requirement for Praktikertjänst's intranet that all employees easily can find the information that they are looking for.
Today, users can quickly access the information that they need despite a complex system with many applications, functions and pages, which thereby saves them a lot of valuable time. Search on the intranet is a central function of the user experience as well as a cornerstone for the technical platform.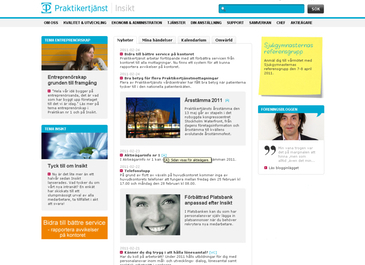 Praktikertjänst uses SiteSeeker search integration for EPiServer
Praktikertjänst uses SiteSeeker search integration for EPiServer on its website. SiteSeeker search integration for EPiServer offers a fully integrated search experience for users, web editors and developers. Important functional features are advanced language support, tested ranking and a benefit focused search statistic module. Non-functional features include the unique service delivery model and our much appreciated support function that is of great help to developers and users alike.
During the last five years, SiteSeeker's search tools has helped more than 20 EPiServer partners to build more than 150 search activated EPiServer websites and intranets.