Segmented result list
7/31/2012
The visitor's first query is often of a general nature. Segmentation of the result list can be of use for websites where the user can be assumed to search for results of a specific type, since the search result is instantly displayed in a structured way and divided into different segments.
When you segment the result page, two or more parallel searches are done in different parts of the index for each user search query. The results for these search queries are presented alongside each other as different result pages on a single search page.
Segmented result pages perform best when the index contains results which in some cases are radically different from the rest of the content in the index. For example, when you search for courses, employees, product catalogues, stores, documents, etc.
User needs
As a user, I want to get an instant overview of the kind of information available on the website
As a user, I want to instantly get the best search result.
Solutions
In the example below, two segments are presented, whereas only one is presenting contact information from the employee catalog. With the help of segmenting, you help the users looking for contact information by not having to make multiple clicks in order to find the information that they are looking for.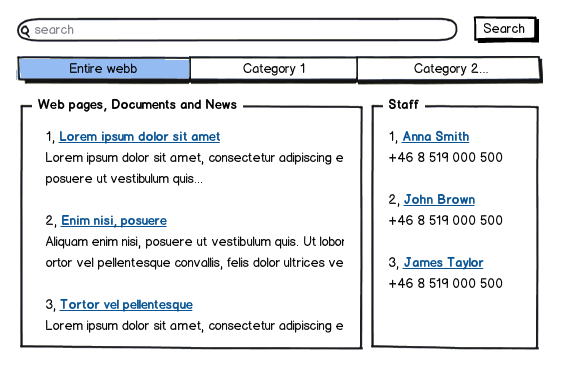 Corresponding segmenting could also be used to separate web pages and documents in order to make it easier for users who are looking for web pages on a web site with many documents.
During the work with design and content in the segments, you should also plan for how to handle search queries which do not produce any search results in one or more segments. In the example below, segmentation is omitted when the search query do not result in search results. In this way, you avoid displaying the same error message in three different segments.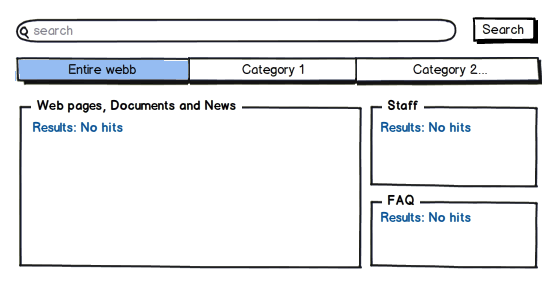 Limitations and Challenges
As a result of search queries getting duplicated, the statistical data is influenced. Therefore, do not ask more search queries than necessary, better then to use the information about categorizing in the search context. Read more how to handle statistical data in the document.
All segments should be visible regardless of screen resolution. Use horizontal segments primarily, as users with small screens otherwise run the risk of not being able to see segments further down the list. We recommend that the user should be able to see parts of all segment without having to scroll down.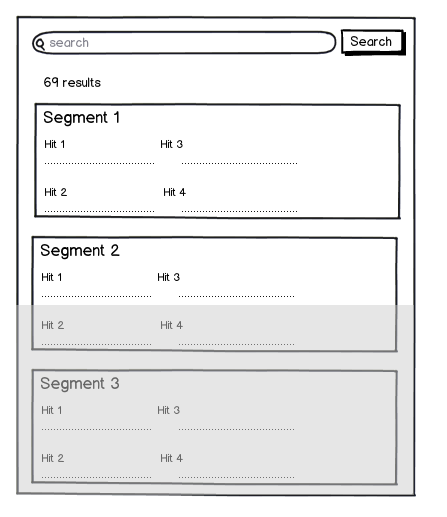 It should be easy for the user to make out which is the best search result. A heavily segmented result list run the risk of putting the SiteSeeker ranking out of play (se image below). In these cases, better to consider combining search results from different parts of the index in a single result list, but marked differently in order to help the user to see the distinction between the different results in a transparent way.